BARD & the Services of the Talking Book and Braille Library
April 10, 2018
9:30 am-11:30 am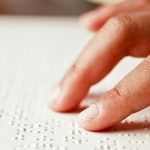 Presented by Shawn Lemieux, Senior Librarian, TBBL.
Upper Hudson Library System
28 Essex Street
Albany, NY 12206
518-437-9880
Remember that question on the Annual Report about the Talking Book and Braille Library? Guess what? The Library of Congress National Library Service (NLS) is launching a national television and radio campaign Monday, February 26, on National Public Radio, the History Channel, and the Hallmark Channel about using the Talking Book and Braille Library.
You may get questions about how patrons would apply for access to talking book and braille library program services. Information on eligibility and application for these free services is available from the New York State Library Talking Book and Braille Library.
SALS, UHLS & MVLS have teamed up to host a program to answer all of your questions from 9:30 -11:30 am Tuesday, April 10 at the Upper Hudson Library System. Shawn Lemieux, the Senior Librarian at TBBL, will tell us about free services for people who need physical and visual options for reading. The discussion will include the TBBL application and certification guidelines and additional referrals and resources. There will be a demonstration of the equipment and options for using BARD, BARD Express, BARD Mobile, and third-party players, and an opportunity to try out the devices and ask questions.
If you have any questions about the program or eligibility, get in touch with Erica, and plan on attending an introduction to TBBL.
Applications for service require certification of eligibility by an appropriate authority, which includes librarians, library directors, and library managers. Learning disabilities require certification from a medical doctor or doctor of osteopathy.
Applications may be downloaded and printed from the websites.
Click Here to Register